About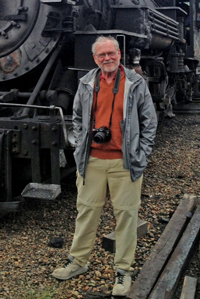 Karl Zimmermann was born in 1943 in Chicago—appropriately, since his lifelong interest in trains has made him a "player with railroads," to borrow a phrase from Carl Sandburg. When he was three, his family moved to New Jersey, where he has lived for much of his life.
A graduate of Princeton University who also holds an M. A. in English from New York University, Zimmermann began his career teaching English at the Englewood School for Boys (later Dwight-Englewood) in 1965 and the following year married Laurel Ann Chenet. In November 1970 his first travel story was published, in the New York Times. His first book, CZ: The Story of the California Zephyr, appeared in 1972. So did their second daughter, Emily; Jennifer had been born the previous year.
Other books have followed, making 26 in all. Through the years his stories have appeared in Travel & Leisure, Gourmet, Trains, Classic Trains, Americana and Passenger Train Journal (he served as contributing editor to both), Cruise Travel, Bon Appetit, Locomotive & Railway Preservation, Railroad and Railfan, Amtrak Express, The Writer, Chronos, Physicians' Travel & Meeting Guide, Outdoor Life, and Western Outdoors. For Passenger Train Journal, he is currently the North American Intercity Rail columnist as well as contributing editor.
Zimmermann has been a frequent contributor to the travel sections of newspapers across the country. These have included the New York Times, Washington Post, Los Angeles Times, Sunday Star-Ledger, South Florida Sun-Sentinel, Globe & Mail, Boston Globe, Chicago Tribune, New York Post, Boston Herald, Baltimore Sun, Buffalo News, Rochester Democrat & Chronicle, Orlando Sentinel, Pittsburgh Post-Gazette, Akron Beacon-Journal, Miami Herald, Cleveland Plain Dealer, and Chicago Sun-Times.
On the Web, Zimmermann has written a monthly column, "All Aboard!," for trains.com and feature articles and news for expedia.com. He is an accomplished photographer; many hundreds of his photographs are in print—in both his own books and others, and in the magazines and newspapers listed above.
After concluding a 25-year career as teacher and administrator in independent schools, in 1990 he began an ongoing relationship with Browning Associates, a consulting firm that specialized in counseling schools on development and related matters.
Over the years, as the railroad scene in the United States shifted, Zimmermann increasingly turned his attention overseas. He has ridden the rails of North and South America, Europe, Africa, Australia, and into Asia in pursuit of steam locomotives and exotic and scenic journeys.
Zimmermann has served as lecturer, study leader, and tour host aboard the GrandLuxe Express and for Smithsonian Associates and the Society of International Railway Travelers.