News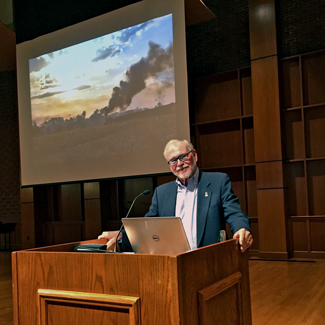 Talking trains. On October 5, Karl Zimmermann kicked off Susquehanna University's Institute for Lifelong Learning's 2016-17 program series with "The Trains of Yesteryear: A Travel Writer's Trip to Cuba." This illustrated talk showcased a 2001 journey, offered under Treasury Department license by Trains Unlimited, Tours, that was primarily a search for some of the roughly 100 vintage American-built steam locomotives that came to life late each February for the sugar harvest. Zimmermann pointed his camera at not only those standard and narrow-gauge engines but other reminders that Cuba had been caught in a time warp. A search for Ernest Hemingway-related sites was part of the story, as were the 1940s and 50s automobiles still cruising Cuban roads.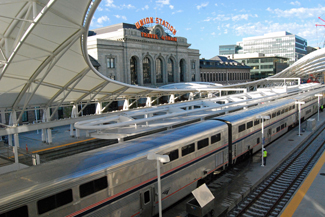 A splendid rebirth. In April, when Trains magazine's Colorado Railroads special issue was published with Karl Zimmermann's feature article, "Denver Union Station," it was the third time in recent months that the author had covered this classic building's restoration, renaissance, and partial repurposing. Earlier the station had been featured in his North American Intercity Rail column in Passenger Train Journal, and he also had written about it in the December 13th Travel Section of the Los Angeles Times: "Historic Train Station is Its Own Destination." Today the station gleams in many roles. Inside are the luxurious Crawford Hotel and a selection of fine places to dine and drink. The elegantly refurbished great hall is now "Denver's Living Room," where everyone is welcome. Amtrak's California Zephyr still serves Denver Union Station.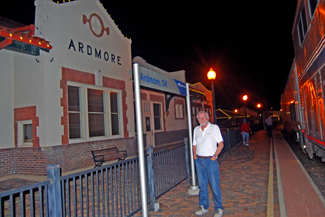 Oklahoma Five-0! On April 7, when Amtrak's Heartland Flyer rolled into Oklahoma, en route from Fort Worth to Oklahoma City, Karl and Laurel Zimmermann logged their fiftieth state by train. They hopped off at Ardmore, the first stop in Oklahoma, to commemorate the event. A future column in Passenger Train Journal will chronicle the trip, which began at Penn Station in New York City on the Lake Shore Limited and continued from Chicago Union Station on the Texas Eagle.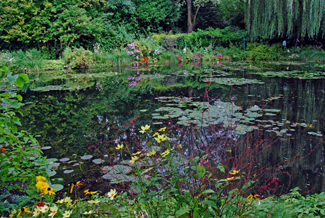 Two more in the Times.On June 7, the Los Angeles Times featured Karl Zimmermann's "Reflections of Monet" on the cover of the Travel Section. The story covers not only the Monet Museum and Gardens, with its famous lily ponds, in Giverny but also an excellent hotel and restaurant there, Le Jardin des Plumes. That same day, as part of this French-themed issue, Zimmermann's "Ernest Hemingway's Paris springs to life via cafes, brasseries, more" ran as a Web exclusive at latimes.com/travel. This piece chronicles Zimmermann's search for the vanishing traces of the famous author's Parisian life.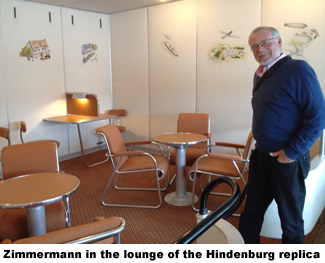 Back-to-back at the Los Angeles Times. As the calendar flipped from January to February, Karl Zimmermann was featured in two successive Sunday Travel Sections. On January 26, his piece on the Zeppelin Museum in Fredrichshafen appeared (Hindenburg partial replica is highlight of the Zeppelin Museum in Germany), followed on February 2 by his story on the TVH Patricia (A luxurious putter around Britain aboard the Patricia). This little 12-passenger ship is a seeming anomaly: a hard-working vessel that tends buoys and lighthouses yet features luxurious accommodations for a few lucky voyagers. Zimmermann's father was one of only 1003 passengers ever to cross the Atlantic on the Hindenburg in its one year of service; he often talked of this experience, so the writer has a highly personal interest in the museum and understanding of the airship.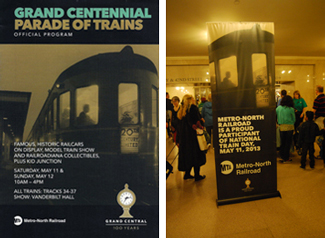 In the mid-1960s not long before New York Central discontinued the 20th Century Limited, its fabled New York City to Chicago speedster, Karl Zimmermann visited Harmon, N.Y., to photography the train. While its electric locomotive was swapped for diesel power for the trip west, he shot the Century's elegant Creek-series sleeper-observation-lounge as dusk fell.
When Metro-North Railroad staged a Grand Centennial Parade of Trains on May 11 and 12 as part of the Grand Central Terminal centennial celebration, that image was chosen as the emblem for the occasion, appearing on the program cover for the event, in print advertising, and on posters and video screens at the station. Also on that occasion, reprints of Zimmermann's Trains article, "Grand Central Kicks Off its Second Century," were distributed to the visitors.
Earlier, On April 11, Zimmermann had participated in "Grand Central Talks," a series of presentations, also a part of the centennial festivities, offered to the public in Grand Central's Vanderbilt Hall. His was a part of the "Pioneers of Railroading" session. He also served as a resource for print and television reporters at the Parade's press preview on May 10.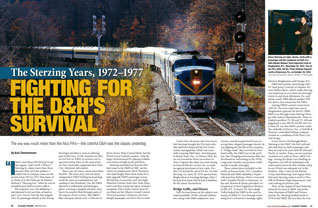 We've got it covered! As 2012 drew to a close, both of Kalmbach's railroad publications, Trains and Classic Trains, carried cover stories by Karl Zimmermann. The Winter 2012 issue of Classic Trains features "Fighting for the D&H's Survival: The Sterzing Years, 1972-1977." For this story, Zimmermann reconnected with Bruce Sterzing to recall the tumultuous time when Sterzing ran the Delaware & Hudson Railway and Zimmermann covered it as a writer and photographer.
To mark the great terminal's centennial on February 1, 2013, the February issue of Trains (available in late December) will offer Zimmermann's "Ageless Grand Central Kicks off its Second Century," an in-depth celebration of Grand Central Terminal's illustrious history, including the near-fatal peril it faced in the 1970s and its heartwarming restoration by Metro-North Railroad in the 1990s.