Archived News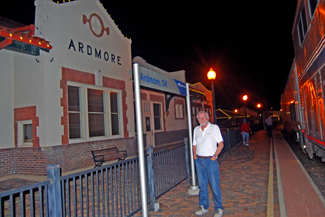 Oklahoma Five-0! On April 7, when Amtrak's Heartland Flyer rolled into Oklahoma, en route from Fort Worth to Oklahoma City, Karl and Laurel Zimmermann logged their fiftieth state by train. They hopped off at Ardmore, the first stop in Oklahoma, to commemorate the event. A future column in Passenger Train Journal will chronicle the trip, which began at Penn Station in New York City on the Lake Shore Limited and continued from Chicago Union Station on the Texas Eagle.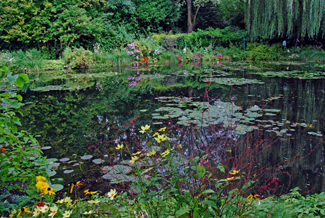 Two more in the Times.On June 7, the Los Angeles Times featured Karl Zimmermann's "Reflections of Monet" on the cover of the Travel Section. The story covers not only the Monet Museum and Gardens, with its famous lily ponds, in Giverny but also an excellent hotel and restaurant there, Le Jardin des Plumes. That same day, as part of this French-themed issue, Zimmermann's "Ernest Hemingway's Paris springs to life via cafes, brasseries, more" ran as a Web exclusive at latimes.com/travel. This piece chronicles Zimmermann's search for the vanishing traces of the famous author's Parisian life.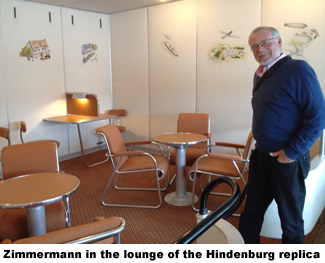 Back-to-back at the Los Angeles Times. As the calendar flipped from January to February, Karl Zimmermann was featured in two successive Sunday Travel Sections. On January 26, his piece on the Zeppelin Museum in Fredrichshafen appeared (Hindenburg partial replica is highlight of the Zeppelin Museum in Germany), followed on February 2 by his story on the TVH Patricia (A luxurious putter around Britain aboard the Patricia). This little 12-passenger ship is a seeming anomaly: a hard-working vessel that tends buoys and lighthouses yet features luxurious accommodations for a few lucky voyagers. Zimmermann's father was one of only 1003 passengers ever to cross the Atlantic on the Hindenburg in its one year of service; he often talked of this experience, so the writer has a highly personal interest in the museum and understanding of the airship.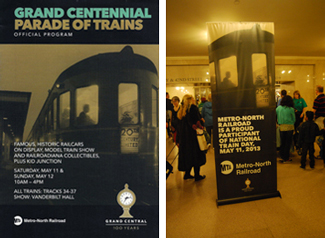 In the mid-1960s not long before New York Central discontinued the 20th Century Limited, its fabled New York City to Chicago speedster, Karl Zimmermann visited Harmon, N.Y., to photography the train. While its electric locomotive was swapped for diesel power for the trip west, he shot the Century's elegant Creek-series sleeper-observation-lounge as dusk fell.
When Metro-North Railroad staged a Grand Centennial Parade of Trains on May 11 and 12 as part of the Grand Central Terminal centennial celebration, that image was chosen as the emblem for the occasion, appearing on the program cover for the event, in print advertising, and on posters and video screens at the station. Also on that occasion, reprints of Zimmermann's Trains article, "Grand Central Kicks Off its Second Century," were distributed to the visitors.
Earlier, On April 11, Zimmermann had participated in "Grand Central Talks," a series of presentations, also a part of the centennial festivities, offered to the public in Grand Central's Vanderbilt Hall. His was a part of the "Pioneers of Railroading" session. He also served as a resource for print and television reporters at the Parade's press preview on May 10.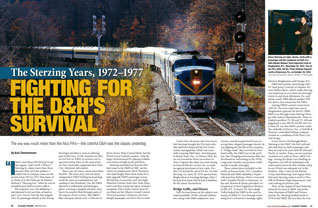 We've got it covered! As 2012 drew to a close, both of Kalmbach's railroad publications, Trains and Classic Trains, carried cover stories by Karl Zimmermann. The Winter 2012 issue of Classic Trains features "Fighting for the D&H's Survival: The Sterzing Years, 1972-1977." For this story, Zimmermann reconnected with Bruce Sterzing to recall the tumultuous time when Sterzing ran the Delaware & Hudson Railway and Zimmermann covered it as a writer and photographer.
To mark the great terminal's centennial on February 1, 2013, the February issue of Trains (available in late December) will offer Zimmermann's "Ageless Grand Central Kicks off its Second Century," an in-depth celebration of Grand Central Terminal's illustrious history, including the near-fatal peril it faced in the 1970s and its heartwarming restoration by Metro-North Railroad in the 1990s.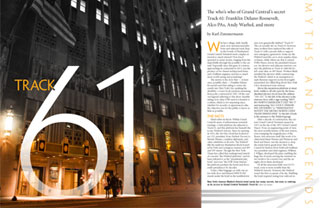 Two in Trains. First, the April 2012 issue of Trains magazine, themed around the myths and legends of railroading, featured Karl Zimmermann's "Track 61. The Who's Who of Grand Central's Track 61: Franklin Delano Roosevelt, Alco PA's, Andy Warhol, and More." In preparing this piece, Zimmermann dug deep to separate fact from fiction about this mysterious siding under New York City's famous Waldorf-Astoria Hotel. While debunking some intriguing and widely circulated misconceptions, the article unearths enough particulars to create an equally interesting story.
Two months later, the June 2012Trains carried Zimmermann's in-depth coverage of the Western New York & Pennsylvania, a regional line that has rejuvenated pieces of the old Erie Railroad and Pennsylvania Railroad. Lending extra interest to the WNY&P is its all-Alco locomotive roster. These rare, throwback diesels are a magnet for train enthusiasts, as is the bucolic and often remote countryside through which they run.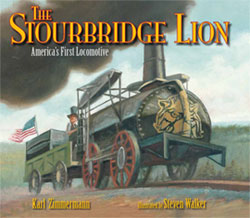 Now available from Boyds Mills Press: The Stourbridge Lion, America's First Locomotive, a new book for young readers by Karl Zimmermann, with illustrations by Steven Walker. This is the first picture book on which Zimmermann has collaborated, though he has written (and illustrated with his own photographs) a quartet of books, also published by Boyds Mills, on transportation subjects and aimed at readers aged 9 and up. About the upcoming book, the publisher says: "On August 8, 1829, Honesdale, Pennsylvania, witnessed something never seen before in America: a steam locomotive running on rails. Some people thought the beast was doomed to failure. But despite their fears, the iron contraption chugged down the track, belching steam, marking the birth of the American railroad. The history of the Stourbridge Lion is the story of the real little engine that could."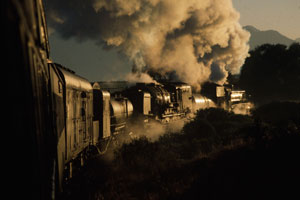 On April 17, 2011, the Center for Railroad Photography and Art held its annual conference at Lake Forest College in Illinois. Called "Conversations About Photography," it included presentations by a number of noted railroad photographers. As part of the program, Karl Zimmermann offered "Railway Traveler: f 8 and Be There," in which he discussed how his interest in and pursuit of railroad photography has evolved over the decades.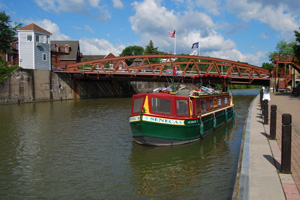 Travel section trifecta. Published January 23, the annual cruise issue of the Los Angeles Times Travel Section featured three stories by Karl Zimmermann: "Cunard's old-school travel continues traditions on Queen Elizabeth," reflections on Cunard Line's uniqueness, reported from on board the ship as it crossed the North Atlantic to begin its first world cruise; "Cruising Asia's modern miracles and ancient wonders aboard the Ocean Princess"; and "New York's Erie Canal by boat," which recounts a leisurely July trek across the western end of the canal, a week of locks, bucolic scenery, and small-town America. These stories are available at LATimes.com/travel and will remain in the on-line archives.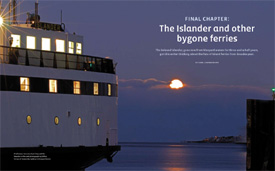 For thirty years Karl Zimmermann has been crossing to Martha's Vineyard on the ferries of the Steamship Authority. In "Final Chapter: The Islander and Other Bygone Ferries," in the August issue of Martha's Vineyard magazine, he recalls those he's known in service -- the Islander, the Naushon, the Uncatena, the Martha's Vineyard -- and others, like the Nobska, that he wishes he had. The story is part history, part appreciation, and part lament for our sad history of failing to save priceless maritime icons.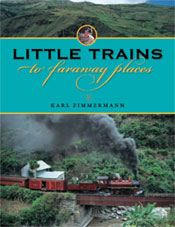 Now available from Indiana University Press: Little Trains to Faraway Places: Adventures on the World's Narrow-Gauge Railways. From the publisher: "Narrow-gauge railroading conjures images of marginal track, wooden coaches, and antique steam locomotives. Yet consider the extraordinarily glamorous and comfortable South African Blue Train and Australia's Queenslander as well as the electrified network of meter-gauge mountain railways in Switzerland that run with a precision similar to that of the country's famed timepieces. Often used to penetrate the most challenging and breathtaking terrain that larger trains are unable to reach, narrow-gauge railways offer even the most seasoned of travelers an experience to remember. Karl Zimmermann, railroad author and accomplished photographer, chronicles his journeys aboard these rarest of trains. Individual chapters weave history and travelogue, complemented by more than 100 color illustrations. The result is a spirited tribute to the world's most charismatic railways."
"Karl Zimmermann's observations will surely bring back memories to many readers, and his richly developed commentary on cultural and historical details will provide an exciting introduction for those who have never traveled to some of the faraway places described." —Parker Lamb, author of Evolution of the American Diesel Locomotive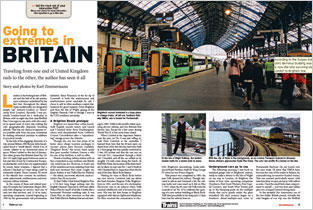 A few years ago Karl Zimmermann "went to extremes" in Great Britain, traveling by train to the most distant four compass points on the island accessible by rail, and his chronicle of that journey appears as the "Web exclusive" story attached to the May issue of Trains magazine.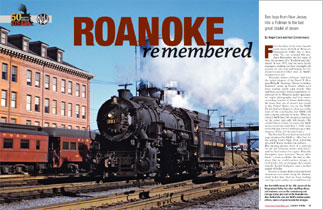 In December of 1957, when Karl Zimmermann was 14, he traveled by Pullman from New York City to Roanoke, Va., to photograph America's last great steam railroad, the Norfolk & Western. With him was Roger Cook, his friend and neighbor. Still close friends more than fifty years later and once again neighbors, Cook and Zimmermann recount that once-in-lifetime experience in the spring issue of Classic Trains.